Total Music® Backline Rentals & Services – Minneapolis/St. Paul, Minnesota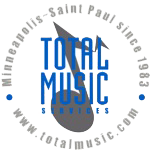 Total Music Services has been providing high quality music equipment rental and service in the Upper Midwest since 1983. We offer state-of-the-art, as well as vintage equipment for national acts, regional festivals and international corporations. We provide onsite support with backline technicians that are the best in the business.
Our sales staff is resourceful, knowledgeable and committed to ensuring a successful show for you. You'll appreciate our dedication to our clients.

Total Music is proud to be the sponsor for Elyse Cashin for the Cambridge Ambassador Program, a service-based program mentoring young women to be their best possible selves, while offering opportunities of fun, friendship, and developing the spirit of volunteerism.
The Cambridge Ambassador Program is a service-based mentorship program for the young women of Isanti County.
Elyse is currently a junior at Cambridge Isanti High School. She is a member of the National Honor Society and currently enrolled in college classes at her high school with the goal of graduating with two years of college accomplished.
Elyse is very passionate about working with animals. She volunteers on weekends with an animal rescue in Elk River, assisting to find permanent homes and providing love & care to all animals in need. After graduation, Elyse will be attending college and major in biology or psychology with the intention of becoming a Doctor of Veterinary Medicine.
Empowering young women with poise, polish, and a promising future; while providing opportunities to make a positive impact in their world.
Cambridge Ambassador Program